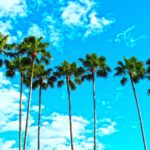 Crowds of tourists flock to see Florida's top tourist attractions every year
A line of palm trees in Florida.
Powdery white-sand beaches, iconic shopping streets and amazing nightlife – the Sunshine State has it all. With the abundance of art galleries, restaurants and cafes that suit every pocket, there's never a shortage of things to do. What more could a woman wish for when going on a vacation? Lounging in the Miami sun while balmy breeze caresses your face is the picture of a paradise on earth. But Florida has so much more to offer than lazy afternoons in the sun. For ladies that seek fun and adventure, there are spectacular amusement parks and wildlife tours. The list of must-see sights is endless. Explore 8 top-rated tourist attractions in Florida and enjoy every minute of your fabulous journey.
Miami Beach and Art Deco Tour
Lounging on the wide golden stretch of Miami Beach is a pleasure one must not miss out when in Florida. Avoid the busy streets and hustle of the city and enjoy the soothing sight of emerald water and white sand. Walk along the Ocean Drive, the legendary oceanfront street where Gianni Versace resided and see the extravagant mansion that was renovated and turned into a hotel after his death.
Walk along the legendary Ocean Drive and explore the Art Deco Historic District
A street sign pointing the direction to Ocean Drive.
Explore the Art Deco Historic District with beautifully restored buildings from the 1930s and early 1940s and dine in some of the finest restaurants Florida has to offer.
The Lake Worth Beach
Streets lined with palm trees, chic boutiques, art galleries and fine dining are trademarks of downtown Lake Worth. And all this is situated in the close proximity to the beautiful Lake Worth beach, an extensive stretch of white sand at the ocean's edge. If long walks by the ocean and casual evenings in beachfront bars are your cup of tea, Lake Worth is a place to visit. And should you decide to relocate to Lake Worth, FL after your trip to Palm Beach County, it would come as no surprise. This little city is affordable, walkable and easy to fall in love with.
A trip to Florida Keys
The emerald waters of Florida Keys are a sight for sore eyes. But that's not where the beauty ends. The locals really know how to make the best use of the natural beauties of this tropical archipelago located off the southern coast of Florida. The Keys are not only one of the top tourist attractions in Florida, but a world-renowned destination for fishing, snorkeling and scuba diving.
Board a catamaran and go on a sunset cruise along the emerald waters of Florida Keys
A pier in Key West.
Ladies that like to explore the world of cruises will find a trip to Florida Keys absolutely worthwhile. A Key West Sunset Cruise is one-of-a-kind sailing experience on an elegant catamaran with appetizers and champagne included. Other sailing tours include visits to natural dolphin habitats, snorkeling, and a trip to Key West National Wildlife Refuge, where visitors can explore colorful marine life.
Gilchrist Blue Springs State Park
This state park located near High Springs along Santa Fe River is home to a collection of beautiful natural springs. A large, second magnitude spring known as Gilchrist Blue is a stunning example of natural beauty with crystal turquoise water and a spacious swimming area. Visitors can swim or float in the crystal clear water or enjoy outdoor activities such as paddling and hiking. A perfect place to escape from the city, Gilchrist Blue Springs State Park is one of the favorite Florida attractions for nature lovers.
Seaworld Orlando
This exciting amusement park boasts dolphin and whale shows that have gained worldwide popularity among kids and adults. At the same time, you can spend an unforgettable day in Aquatica Orlando, a Seaworld which features everything from extreme slides and rides to soothing wave pools and journeys into the deep. For an adrenaline rush, try the high-speed Mako roller coaster that reaches speeds of up to 73 miles per hour. Make sure to dress properly for your trip and enjoy a splashy day of fun and adventure.
Walt Disney World
Speaking of amusement, use your time in the Sunshine State to organize a trip to Walt Disney World. Scary roller coasters, water parks, aqua tours – you name it. Rarely will you have the chance to enjoy the thrill rides, attractions and shows of the most popular theme park in the world. A journey to Florida provides one-of-a-kind opportunity. Unless your vacation compels you to make Florida your new home. If looking for local moving experts in Florida after a short stay on the East Coast, it means you have fallen in love with the life in the Sunshine State. You are not the only one. Many visitors have come to vacation only and simply decided to stay.
Everglades National Park
Explore Everglades' abundant wildlife on a guided airboat tour that lasts for several hours. A ride through the unique ecosystem of the Everglades with a knowledgeable guide is a unique opportunity to learn and enjoy the serenity of a day in pristine nature. Don't worry if you fail to spot an alligator (the star of the wildlife in the Everglades), you will have the opportunity to enjoy an alligator show later on. With its jungle trails, rare species and unique ecosystem, Everglades National Park is a top-rated attraction for nature lovers in Florida.
Lincoln Road Shopping District
After a careful selection of trips and must-see attractions, save some money to go shopping in the iconic district of Lincoln Road. This pedestrian zone is home to trendy shops, art galleries and some of the finest restaurants. Stores and cafes stay open late to meet the needs of tireless crowds who like to stroll for hours and shop till they drop. Needless to say, Lincoln Road is a perfect place for a night out. Check for happy hours and enjoy hand-crafted cocktails, craft beers and a slice of brick oven pizza, all at affordable prices.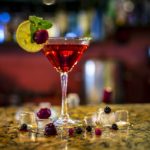 How about sipping cocktails in the Lincoln Road?
A red cocktail at the bar.
End your visit to the most popular tourist attractions in Florida by sipping cocktails with bags full of trendy clothes by your side. Sit back, relax and breathe the ocean air. Enjoy every minute of your stay. Because that's what traveling is all about.